Achieve a Lifetime of Excellent Oral Health With Our Help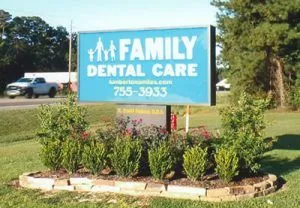 At Family Dental Care, Dr. H. David Nelams and the rest of our team are committed to helping you and your family achieve a lifetime of excellent oral health in Lumberton. We'll not only treat your immediate needs but offer you the kind of dedicated care that results in a happy, healthy smile throughout your life.
We do it by:
Educating you on the importance of preventive care
Getting to know you so we understand your unique goals and concerns
Treating you with the kind of care that overcomes any anxiety you may feel
Providing comprehensive services, from dental exams to dental implants, to address your dental needs
Continually seeking ways to improve our practice for your comfort and dental health
To schedule an appointment, call 409-217-5927. We welcome patients from all of Hardin County and surrounding areas in southeast Texas.
Find the Services You Need For Excellent Dental Health
You'll build a strong foundation for your dental health with preventive care, including dental exams and cleanings. Since you'll likely visit our office for these services more often than for any other services, they're a great chance for us to get to know you! In addition, you'll find:
Smile Improvement – You can change whatever you don't like about your smile with cosmetic dentistry, including Invisalign orthodontics, dental veneers, teeth whitening, and tooth bonding.
Smile Repair – If you've suffered dental damage, repair it with restorative dentistry like tooth fillings, dental crowns, and root canals.
Teeth Replacement – You can replace missing teeth with dental implants, dental bridges, or dentures.
Emergency Care – We reserve time in our daily schedule to see dental emergencies.
No matter which services you receive, we'll offer you dental sedation if you're feeling anxious. We can provide laughing gas for light sedation or an oral sedative for a deeper level of relaxation.
To start achieving a lifetime of excellent oral health in Lumberton, call 409-217-5927 now. We serve the following nearby towns, as well as Southeast Texas in general: Silsbee, Kountze, Woodville, Buna, Evadale and Wildwood.